Make Money Writing PLR – My Mini Case Study
This week I launched a 10 Day PLR sale for new articles. This post is a mini case study of everything I did. If you are thinking about making money by writing PLR, I hope this provides you with some tips and advice.
The title of this PLR offering was Christmas Gift Ideas with Popular TV & Movie Themes. Sale Started Monday 17th – Wednesday 26th November 2014.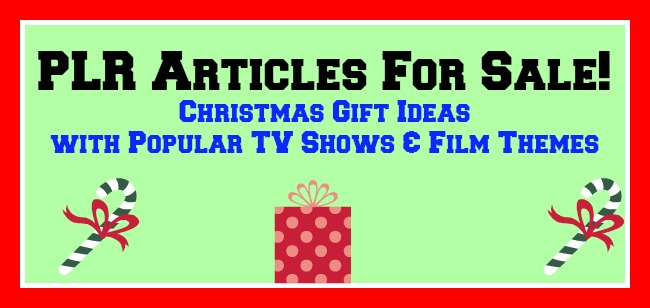 Click Here to See The Sales Page on The Warrior Forum
Here is a run down of the process that I went through.
How I Chose My Topic
I chose to write about this topic for several reasons:
These would make perfect articles for affiliate blog posts
These would be good for different types of blogs
These articles can be broken up and used as part of people's email responder sequences
These articles can be used to create a free opt-in gift for affiliate sites
How I Decided on The Article Count
At the moment my aim is to write at least 20 new articles each month for my PLR site. I had done a previous PLR sale with 20 articles and decided to push myself and bump this up to 30. With this subject matter, I could have written even more but the time I had available meant that 30 was my limit.
The sale was supposed to happen last week but I got a cold and didn't get everything finished.
How I Sorted Out My PLR Offers
I managed to write 30 articles and I grouped them into sections so that once the sale is over, I can add them to my site for the full price. People can then choose to just buy a specific 5 pack topic or they can choose the mixed category of 10 articles.
The topics was as follows:
Gift Ideas with a Disney's Frozen Theme x 5 Articles
Gift Ideas with a Superhero Theme x 5 Articles
Gift Ideas for Different Ages x 10 Articles
Gift Ideas with a Doctor Who Theme x 5 Articles
Gift Ideas with The Big Bang Theory Theme x 5 Articles
Each article has the corresponding Amazon links included to make it easier for people to set up their blog posts. They can copy and paste the content and copy the link into Amazon, click and create their affiliate link for each product.
How I Created The Sales Page
My artistic skills are quite limited so my sales page is quite straight forward. I created a header using Picmonkey, took pictures from Amazon's sales pages for the corresponding products and laid everything out so that it was clear to see when you scan through.
I saved as a Jpeg and hosted it via Amazon's storage facility.
How I Set Up The Sales Page
I decided to do this sale via JVZoo. I like using this system for two main reasons.
It is really easy to use
They sort out payments to affiliates
I used Tiffany Lambert's guide called How toLaunch a WSO on JVZoo. Straight forward and easy to follow guide. (A review post for this product is on its way.)
I wanted to ensure that a wide audience would see the offer so I paid $20 to host the sale on the Warrior Forum. Once I have a bigger subscriber list, this will not be as necessary but for now, I need all the exposure I can get for my sales.
Next Step – Promotion
I sent out review copies to fellow PLR providers and internet marketers with the hope that they will share this sale with their lists. This is one of the scariest things ever. You do not know how people will respond to what you have created. You start to worry whether your work is good enough. It is the time when you are at your most vulnerable.
Luckily, people have responded with kind words and are happy to promote to their list. A few have also mentioned that they will add a testimonial to the Warrior Forum sales page. This will help other people decide whether to buy or not.
Where I am At Now – My Hopes
The first thing that goes through my head is – yes! I am going to make hundreds of dollars. As soon as your sale goes live you end up staring at your email inbox, waiting for confirmation of sales to come flying in – the reality can be a little slower than anticipated.
The next thought that goes through my head is "well, as long as I cover the cost of the WSO then that will be good – please God, let me make enough to cover the cost of the WSO!".
Thankfully I did cover the cost of the WSO on the same day. Now everything else will be counted as profit

My Experience Will be Different To Yours
Everyone will have a different experience with their sales. You could make a killing straight away if lots of people are looking for the content you have provided and they know where to find you. On the flip side, it is also possible that you make nothing because people don't know you and don't know the quality of your work. They can be a bit wary to hand over their hard earned cash. This is due to the amount of poor quality PLR articles that is littered all over the internet.
The Benefit of Running PLR Sales
The good thing about creating articles for PLR Bundle Sales is that once the sale ends, you can move the content over to your own website and make it available for purchase at the full asking price. People will find you and if they need this content, they will pay.
I will be adding the different PLR packs to my site, The PLR Boutique once the sale ends.
Update – How Much Did I Make with This Sale?
I will be back with an update of my progress in my monthly income report. Stay tuned folks. Add your email address below so you don't miss any updates!

Have Your Say: Have you ever put products or a service offering up for sale? How was the experience for you? Did it go well? I would love for you to share your thoughts in the comments section below.
photo credit: Carine fel via photopin cc